Cloud-based Customer Communications: Choosing the Best CCM Solution for Your Business
No longer a buzzword, the cloud is here to stay! With an anticipated 17.3 percent growth in public cloud revenue in 2019, more and more organizations are turning toward cloud-based customer communications to strengthen satisfaction and retention. Anyone who has done their research already knows there are a multitude of terms being used to describe cloud deployment models. And even the most tech-savvy agree that interpretations of "the cloud" can get a bit foggy.
If your organization is starting to warm up to the idea of a cloud-based customer communications solution, it's time to familiarize yourself with the various deployment options available to find the solution that best fits your needs. To help guide you in your cloud-buying journey, here are four criteria to look for as you choose a modern CCM system to ensure you find the solution the best fits your needs and allows you to fully reap the benefits only a solution truly built for the cloud can deliver.
Faster Time to Market
According to a Keypoint Intelligence-InfoTrends report, speed of production and execution was a top reason many enterprises opt for a cloud-based customer communications solution. Sure, your on-premise solution will eventually get the job done, but is the downtime and maintenance hindering your speed to market? Those still holding on to their legacy systems are likely leaving innovation on the table and falling behind the competition. A cloud-based solution improves speed by drastically reducing time spent maintaining a local IT infrastructure, freeing up resources to allow organizations to better prepare for anticipated market changes. The cloud also improves business agility, allowing companies to go to market faster, thus maintaining a competitive edge. On-premise legacy solutions that are now hosted in the cloud are limited with fixed resources, making it challenging to scale.
PRO TIP: Ask vendors how frequently their platform is updated. Platforms that are updated frequently and automatically push these updates live to their customers (vs. relying on IT departments to manage complicated upgrades), making it easy to stay ahead of the curve.
Interoperability
Legacy platforms initially built for on-premise deployment likely still rely on outdated technology standards, offer limited APIs, and are unable to integrate with key elements within the customer's technology stack. As cloud services become more important to today's organizations, so is the need for interoperability, or the ability for cloud services to connect with and understand each other's APIs. A true cloud-based CCM solution is equipped with a suite of API integrations and is built with modern standards to enable seamless implementations, giving enterprises immediate access to the latest innovative tools. For example, SmartCOMMTM's Conversation CloudTM is an all-in-one cloud solution that connects all your data, applications, and history to build conversations that are relevant and impactful, time after time, making it easier to increase internal efficiencies and scale personalized interactions.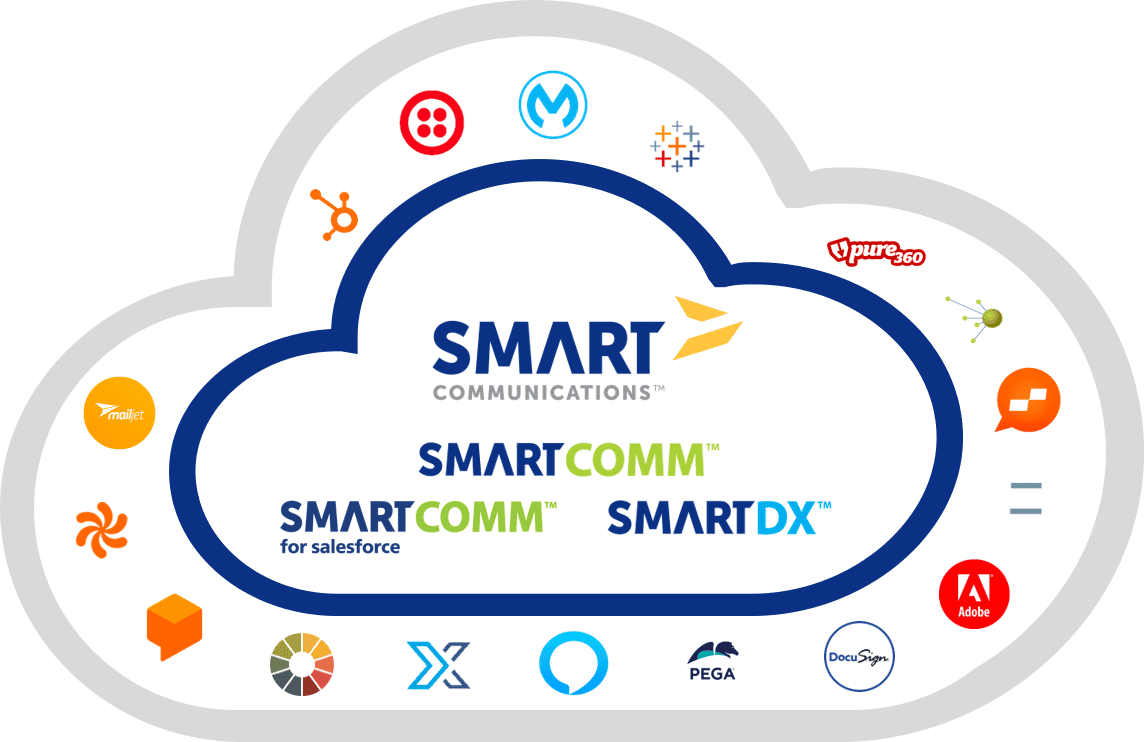 The key is finding a platform that offers the flexibility needed to take your customer communications to the next level.
PRO TIP: Examine how extensive a vendor's API suite is and look for technology that's built with modern standards to facilitate interoperability. Look for vendors that have a published API set as this will lead to easier interoperability.
Enhanced Organizational Efficiency
A CCM solution that's truly built with the cloud in mind increases productivity by enabling employees to work together through the number of tools available in the cloud. Cloud-based communications solutions have the power to break down organizational data silos, making it easier for employees, customers and third-parties to communicate and collaborate. Rather than relying on IT as the go-to data source, a cloud-based CCM solution equips organizations with enhanced data visibility across departments, making it easier to decide which users have what level of access to what data. This also streamlines work efficiencies and increases collaboration as staff will know which communication documents are directly assigned to them. Imagine having one version of a document that can be worked on by different people – with the cloud, there's no need to have multiple copies of the same document in circulation!
PRO TIP: Ask vendors how users can interact with the software to avoid reliance on other divisions within the company for data insights and how quickly important upgrades are implemented. A software that's truly designed with business users in mind should be more than willing to demonstrate these essential capabilities.
Improved Customer Satisfaction
Easier access to customer data allows organizations to create a more consistent and rewarding experience throughout the entire lifecycle as they have greater insight into behavior patterns and individual communication preferences. As technology continues to grow and evolve, customers expect organizations to keep up or else they will gladly find another option that better serves their communication preferences. As you explore cloud-based communications solutions, it's important to look for platforms that can easily deliver communications via multiple channels based on customer preferences and allow for recent interactions to inform subsequent outreach to that customer—even allowing a conversation to start on one channel and continue on to another.
PRO TIP: Look for a platform that is poised to deliver interactive, on-demand, and batch communications across multiple delivery channels, and can future-proof your customer preferences as new channels emerge.
Making the choice to invest in a cloud-based customer communications solution is an important step in an organization's digital transformation journey. It's also likely one of the biggest investments your business will make. Make sure you fully understand the nuances and the benefits only a platform built from the cloud up can deliver.
For more insight to help guide your cloud-based CCM buying journey, download our latest thought leadership, Conquering the Brave New World of Modern, Cloud-Based Customer Communications Management: A Buyer's Guide.