Smart Communications and Guidewire
A SMART combination for seamlessly integrated policyholder communications, deployed quickly
Request a Demo
Smart Communications and Guidewire: A SMART Partnership to Enable New Customer Journeys
Hear from Guidewire's Director of Strategic Market Insight, Brian Vannoni, on why Guidewire has chosen to partner with Smart Communications to enable new customer journeys and omnichannel experiences.
How SmartCOMM™ for Guidewire Benefits Mutual Customers
SmartCOMM for Guidewire helps insurers streamline insurance business operations by combining modern enterprise customer communications management software with a best-in-class insurance operations suite. This integrated insurance solution provides a wealth of realized benefits including:
Improve Policyholder Experience
Reach customers via their preferred channels with omnichannel communications designed to optimize their experience.
Optimize Policyholder and Agent Engagement
Engage customers with tailored and personalized communications that are brand-consistent, relevant, and provide meaningful value.
Scale to Add New Channels
Future-proof your organization by easily adding new communications channels – like SMS – and seamlessly orchestrate conversations across them.
Manage Complexity and Compliance While Integrating Across The Enterprise
Improve internal efficiency and reduce IT reliance by integrating SmartCOMM with Guidewire InsuranceSuite - our business-user focused solution - to efficiently communicate with individual policyholders via digital and print channels.
Scale Policyholder Communications with SmartCOMM for Guidewire
More than 100 insurers around the globe use SmartCOMM for Guidewire integrated with Guidewire InsuranceSuite and InsuranceNow applications to give their business users ultimate control over the creation, management, and delivery of personalized policyholder communications delivered to the channels that their policyholders want to use.
SmartCOMM utilizes published Ready for Guidewire accelerators for InsuranceSuite, including PolicyCenter, BillingCenter and ClaimCenter for an implementation-ready solution that greatly reduces the time-to-deploy to a matter of weeks.
SOLUTION BRIEF
SmartCOMM from Smart Communications
SmartCOMM is an industry leading, cloud-based enterprise document generation and customer communications solution that directly integrates with leading enterprise platforms for a seamless user and customer experience. As the recognized strategy leader in CCM, Smart Communications customers leverage the power of the Conversation Cloud™ as part of their overall digital transformation initiatives.
Explore the solution brief to learn more about our integration with Guidewire InsuranceSuite.
Download the Solution Brief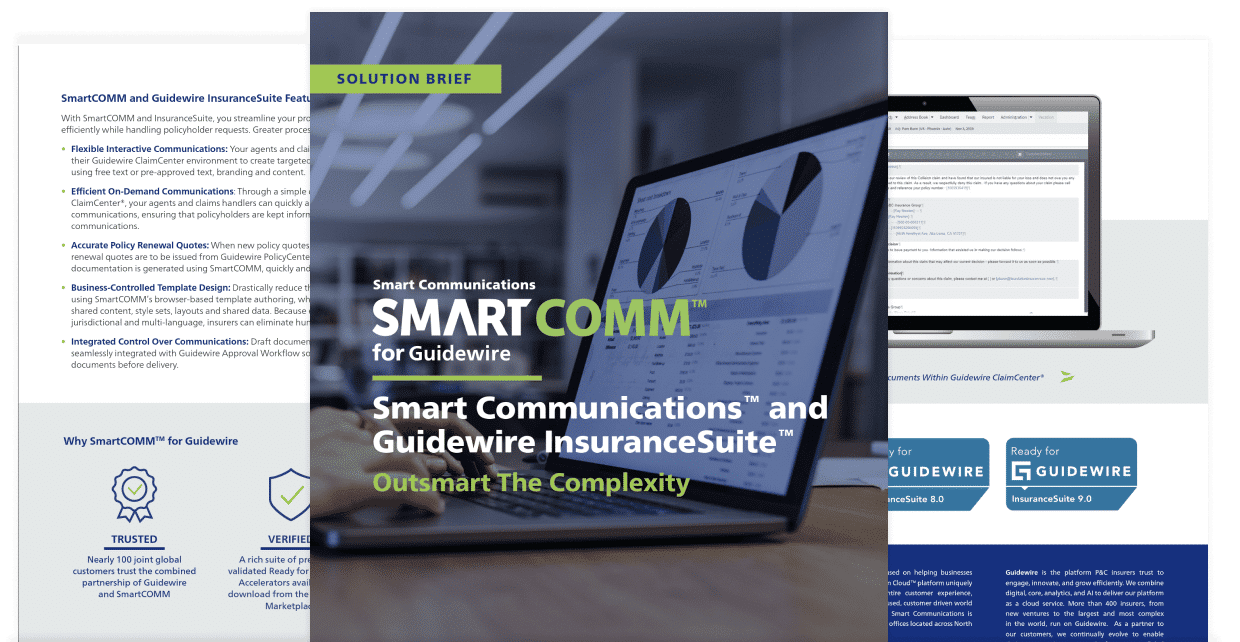 Explore Key SmartCOMM for Guidewire Capabilities
Produce relevant, on-brand, consistent policyholder communications when you integrate Guidewire InsuranceSuite with SmartCOMM. Better processes lead to:
Flexible Interactive Claims Communications
Your insurance professionals use SmartCOMM directly from within their Guidewire InsuranceSuite environments to create targeted and personalized policyholder communications for customers, using free text or pre-approved text, branding, and content.
Efficient On-Demand Communications
Accurate Policy Renewal Quotes
Business User Controlled Template Design
Integrated Control Over Policyholder Communications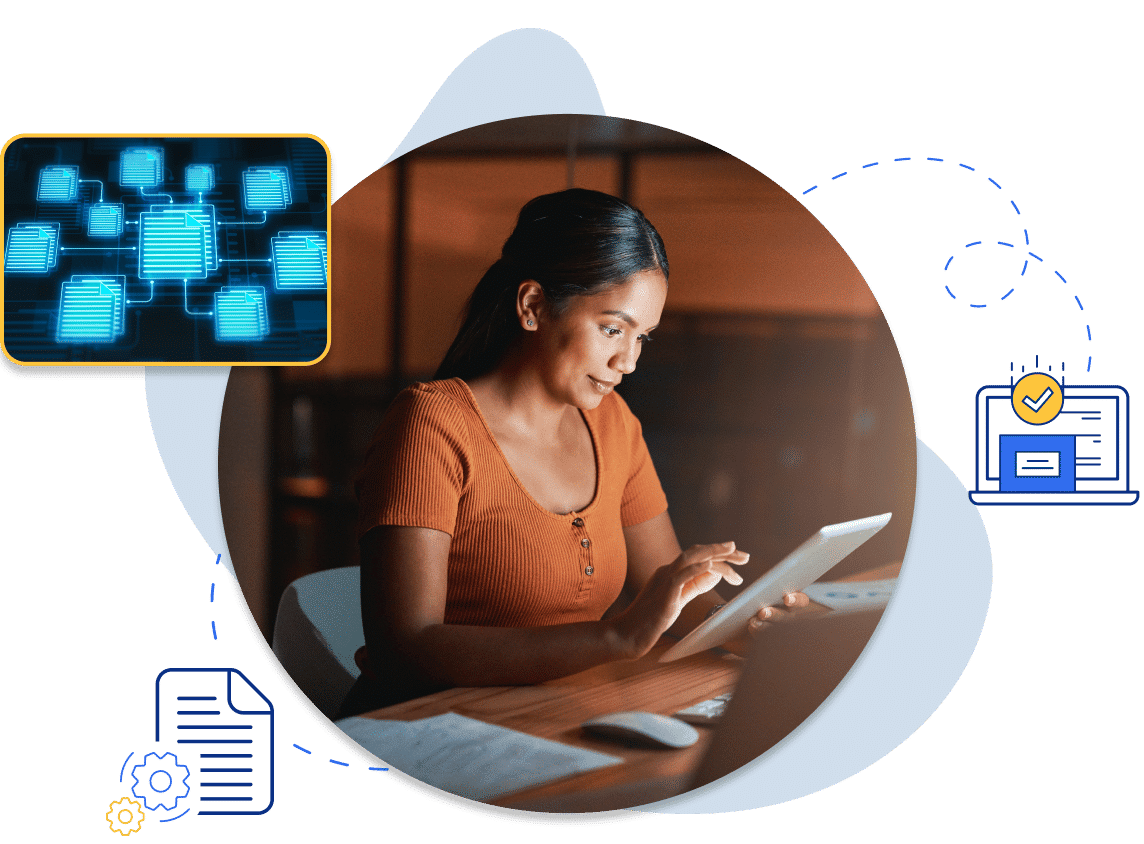 RESOURCES
SmartCOMM for Guidewire
Expert advice and key insights designed to make Insurance enterprises SMARTER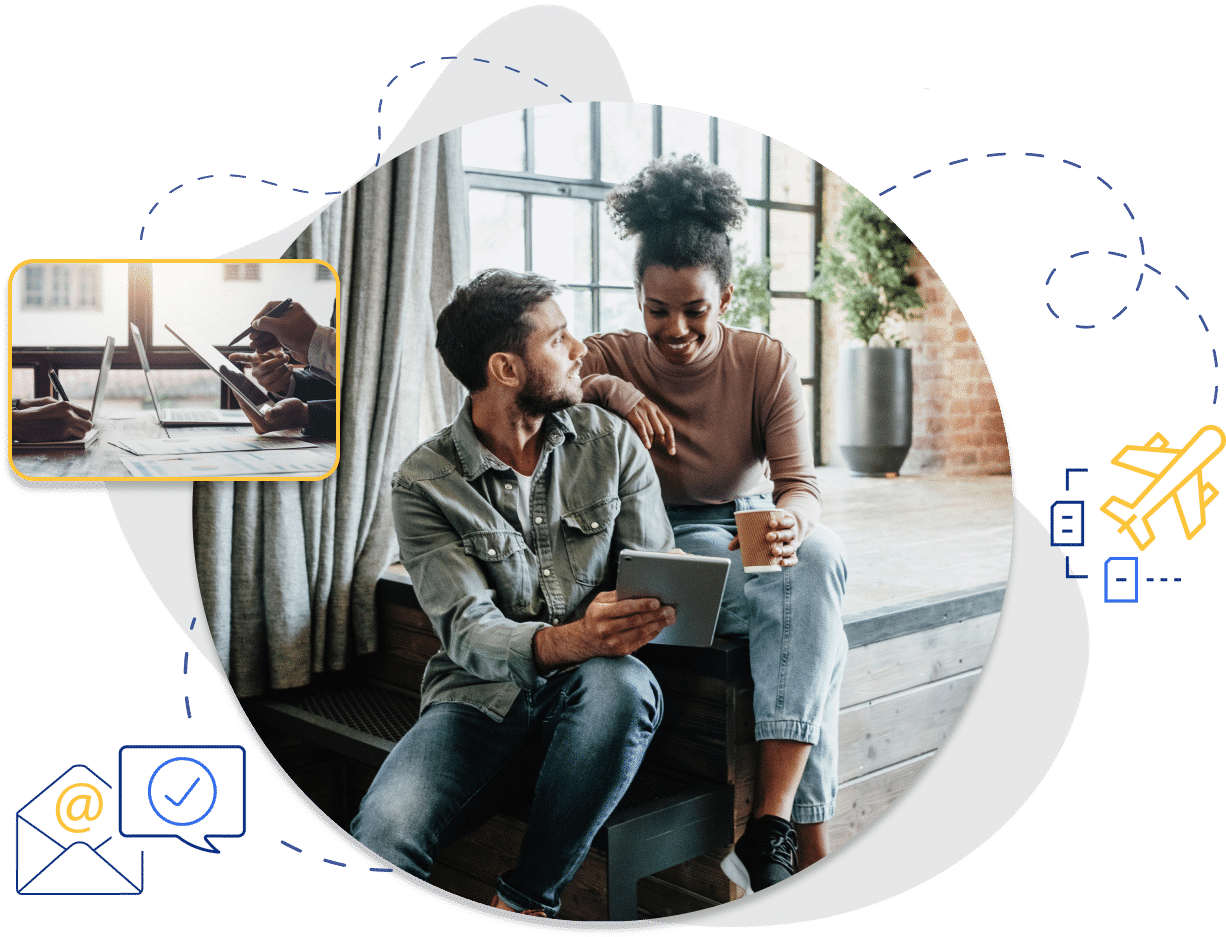 A Guidewire Integration Trusted by More than 100 Mutual Customers
A SmartCOMM for Guidewire integration enables more than 100 Guidewire Customers to efficiently build and manage their omnichannel communication processes and supports many use cases across multiple lines of business including but not limited to: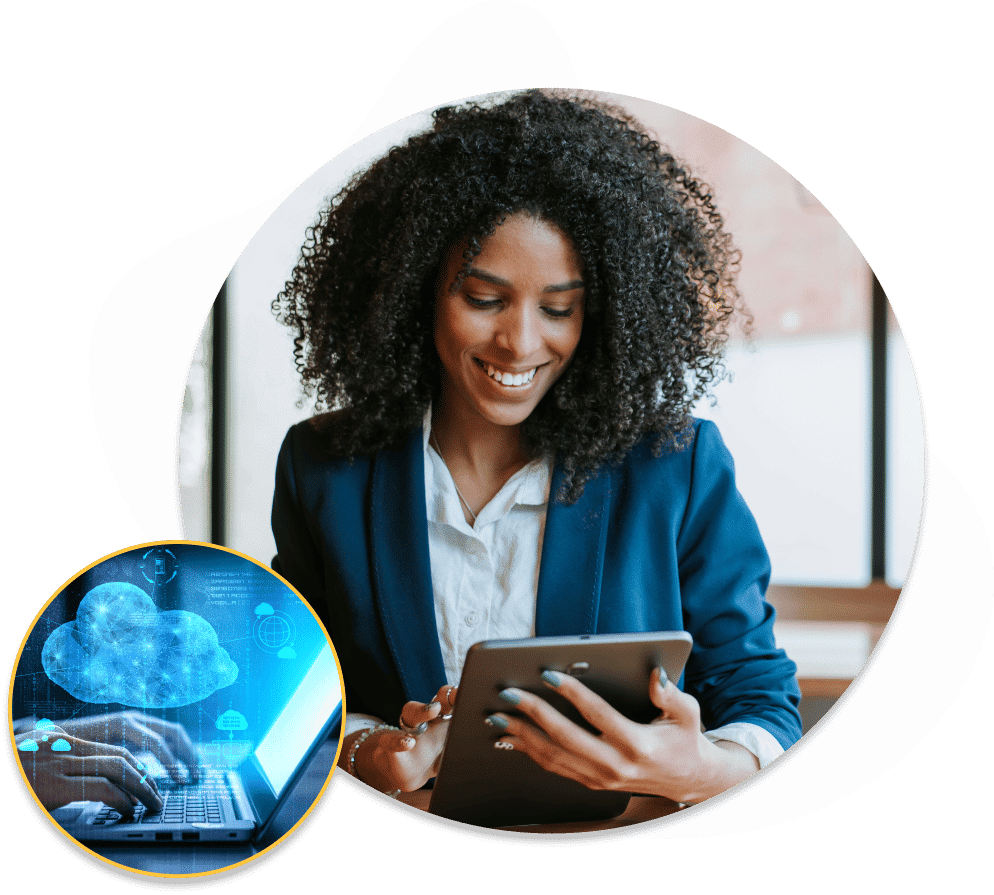 SmartCOMM for Guidewire
Enterprise Insurance policyholder document generation and communications without complexity
Ready to Chat?