Smart Communications and OneSpan
Smart Communications and OneSpan: A SMART Partnership to Enhance Customer Experiences
Hear from OneSpan's Chief Product Officer, Sameer Hajarnis as he presents how the partnership between Smart Communications and OneSpan is based on a mutual focus to enhance customer experience and solve real-world industry CX problems together.
Benefits of Digital Signature Integration with SmartIQ™ and OneSpan Sign
By fully digitizing agreements and incorporating our digital signature integration with OneSpan Sign, your organization can provide an intuitive, personalized, and secure way for customers to complete required agreements or forms—and, at the same time, reduce costs, generate efficiency, and create more sustainable business practices. This integrated solution provides a wealth of realized benefits, including:
Enhance Customer Experiences and ROI
Increase overall completion rates with fully white-labeled, mobile-ready forms and real-time data validation.
Increase Productivity and Efficiency
Improve employee productivity by eliminating manual data entry (and the processing errors that come with it) using pre-built connectors, automated approval workflows and a seamless end-to-end digital experience.
Build Secure and Compliant Digital Customer Journeys
Prove compliance and deflect legal disputes with the most comprehensive e-signature audit trails made possible by digital signature integration.
SmartIQ™ and OneSpan Sign: Enterprise Forms Management with Digital Signature Integration
SmartIQ leverages real-time data and customized approval workflows to power intuitive, response-based forms-related processes. This empowers customer-focused businesses to create data-driven interactions throughout the customer journey - from acquisition and onboarding, to servicing and growth.
Smart Communications in partnership with OneSpan provides an integrated digital forms management solution with secure electronic signatures allowing organizations to drive up completion rates by creating a unique and trusted customer experience.
SmartIQ from Smart Communications
SmartIQ revolutionizes the customer experience by transforming lengthy paper- or PDF-based processes into fast, secure, and personalized digital form processes. By making the processes easier, customers stay engaged longer and companies are able to streamline internal processes, mitigate risk, and reduce dependencies on IT.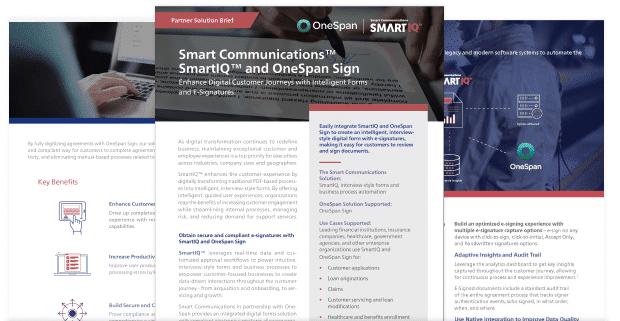 Explore Key Capabilities of SmartIQ and OneSpan Sign
Leverage response-based forms with integrated e-signature
Create secure, response-driven interviews, and generate a signature-ready agreement using OneSpan Sign e-signature capabilities.
Expedite transaction turnarounds with approval workflows
On-demand customer communications and e-sign delivery
Use native integration to improve data quality
Adaptive insights and audit trail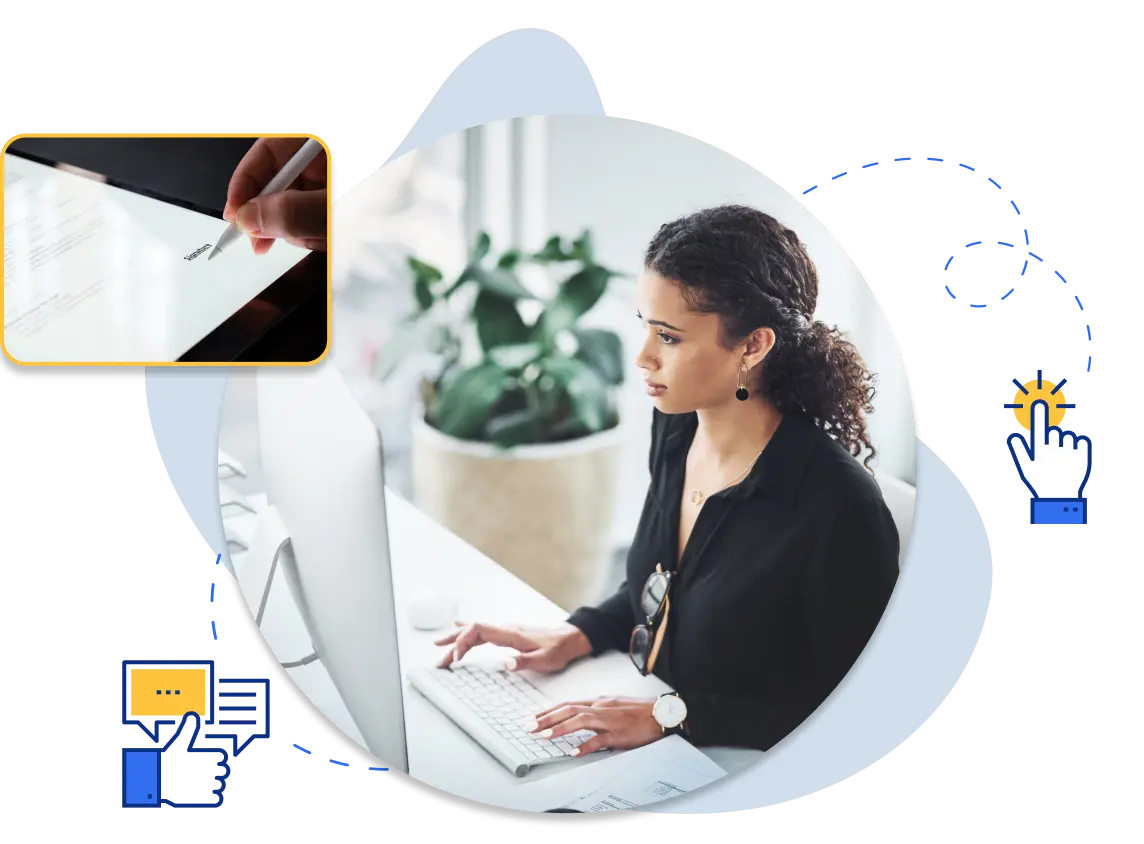 RESOURCES
Smart Communications and OneSpan
Expert advice and key insights designed to make enterprise organizations SMARTER
INFOGRAPHIC:
The Future of Customer Experience in Embedded Lending: Delivering Growth by Reimagining Frictionless Customer Journeys
View Infographic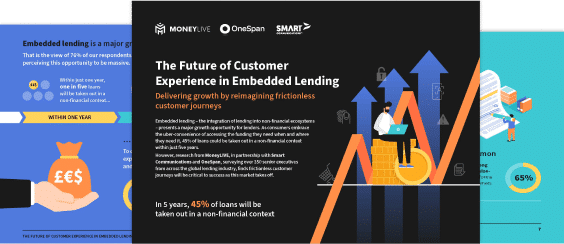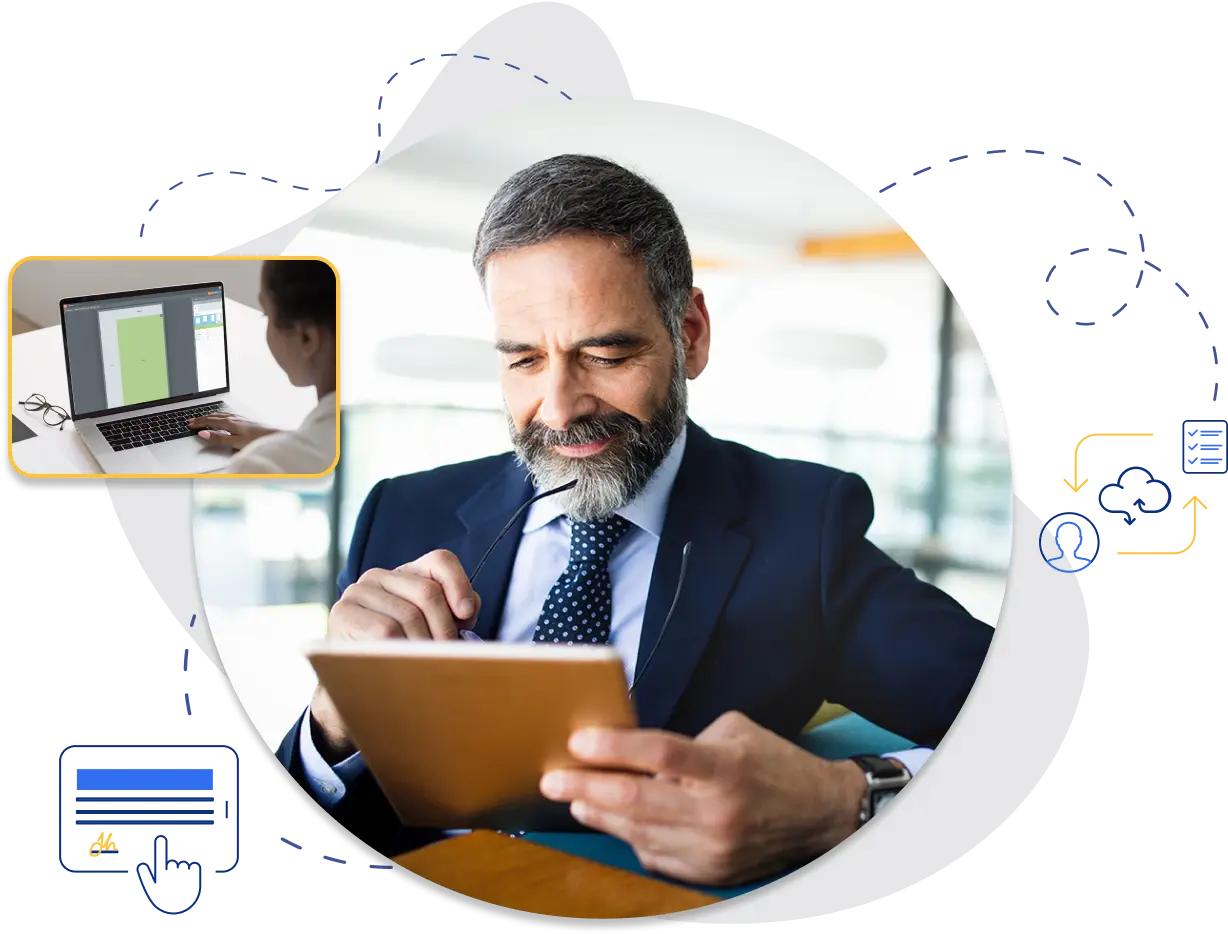 The Many Ways to Harness the Power of SmartIQ and OneSpan Sign
SmartIQ and OneSpan Sign are trusted by leading financial institutions, insurance companies, healthcare organizations, government agencies, and other enterprises to manage their end-to-end form processes, including digital signature integration capabilities. Examples include:
Wealth Management Onboarding
Customer Servicing and Loan Modifications
Healthcare and Benefits Enrollment
Supplemental Health Forms
Employee Offer Letters and Onboarding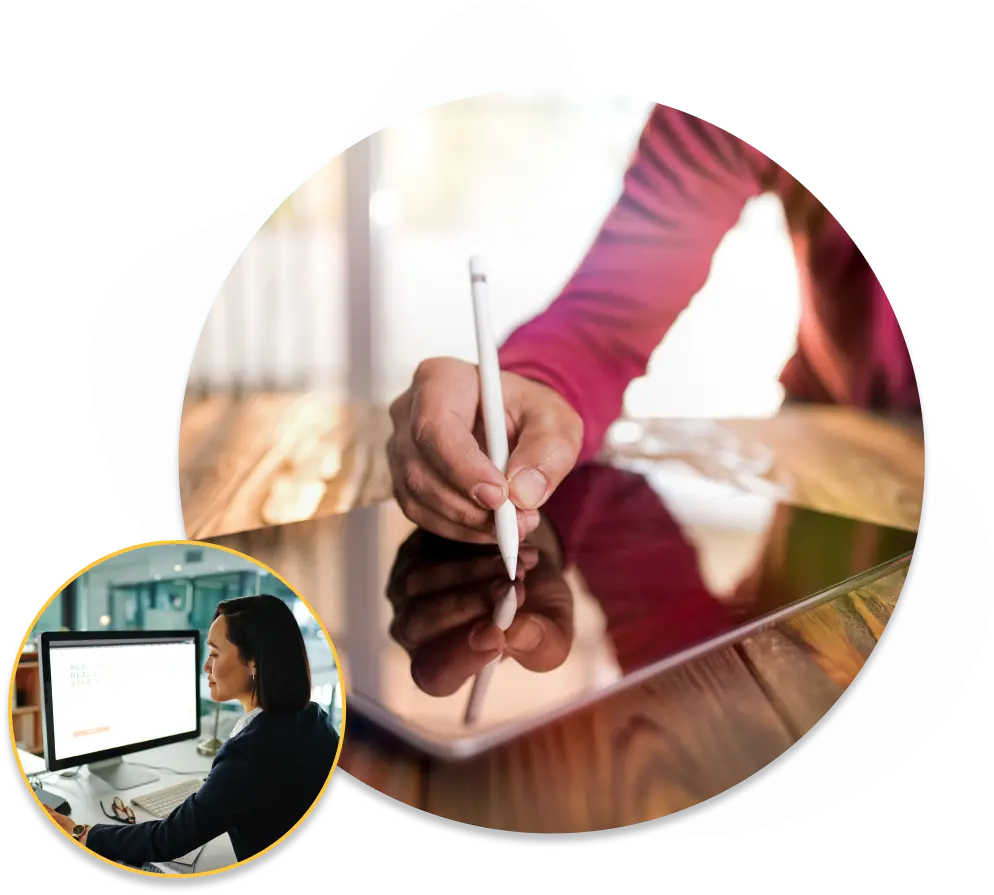 Learn more about digital signature integration and forms process automation available through SmartIQ and OneSpan Sign to enhance customer journeys.