Don't talk at your customers — start a conversation.
Ready to turbo-charge the investments your organization has made in customer interaction tools? You've come to the right place. The Conversation CloudTM makes it easy for your Marketing, Customer Service, and Operations teams to take full advantage of your data infrastructure from a single unified framework. Don't let your data get trapped in isolated silos – instead, use the cloud to increase internal efficiencies and scale personalized interactions.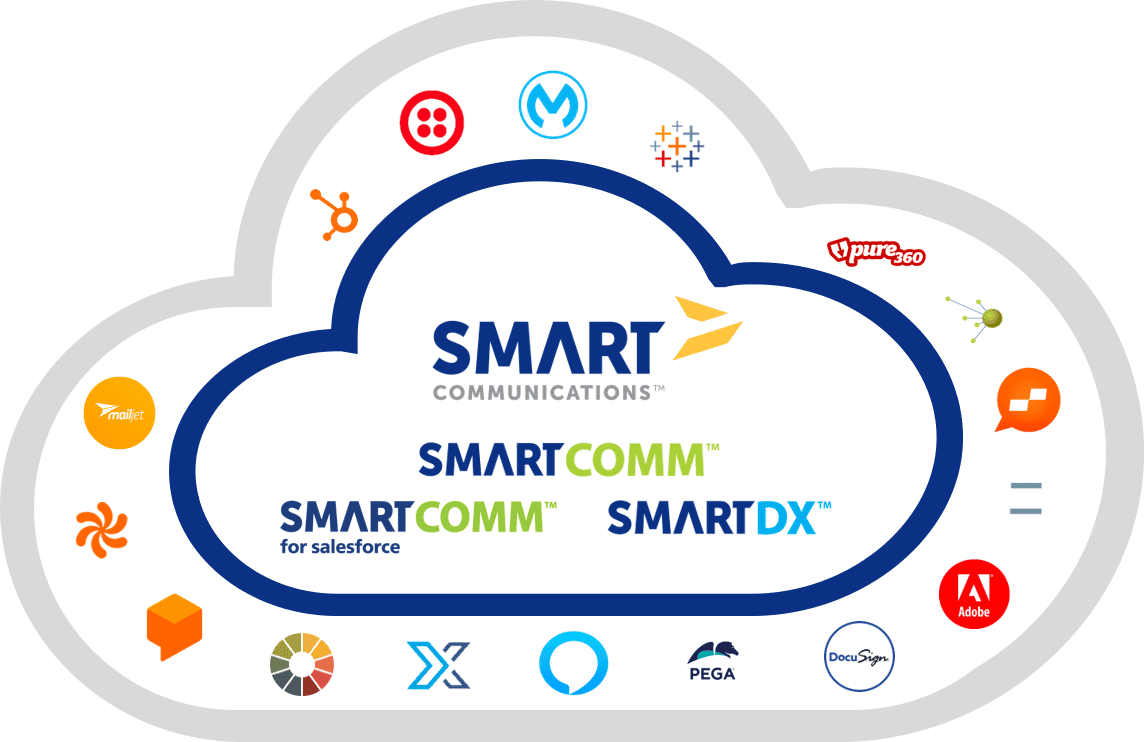 All of our products are built to live at the center of the Conversation CloudTM – an all-in-one cloud solution that connects all of your data, applications, and history to build conversations that are relevant and impactful, time after time.
Learn more about any of our award-winning customer communications technologies, all at the heart of the Conversation Cloud:
Make your Conversations SMARTer
Conversation History allows enterprises to better understand the impact of their customer communications and leverage important trends to evolve these interactions into even more meaningful conversations over time. It listens to all outbound communications and stores them in a highly-efficient and scalable repository. Performance insights can be used to hyper-personalize subsequent communications or aggregated to uncover trends across the business.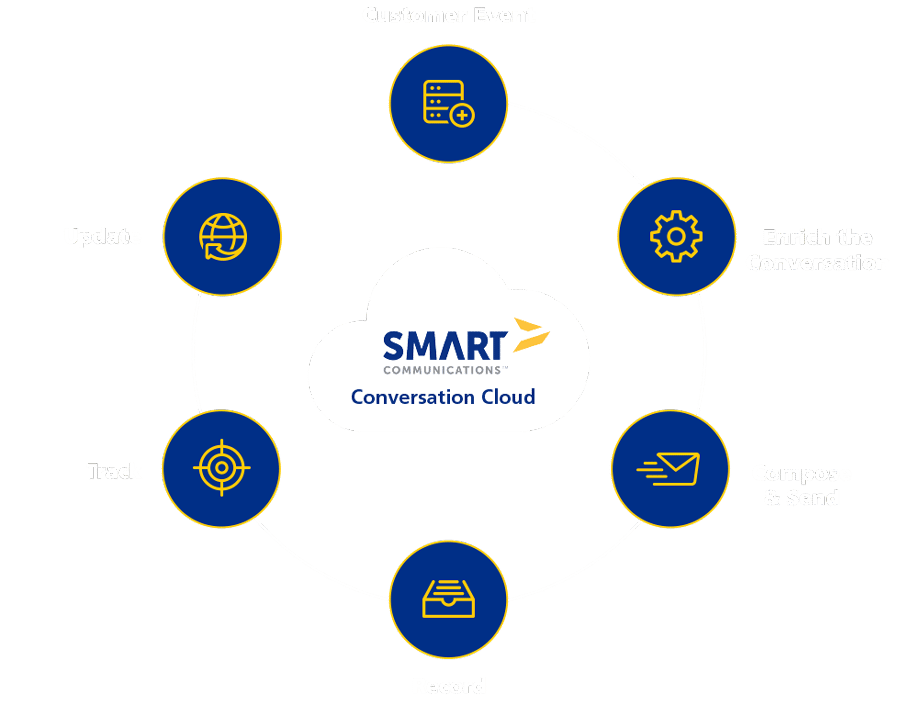 Conversations begin with customer events that are triggered by any of your business systems. For example: a customer's policy comes up for renewal, a monthly statement is available online, or an installation is ready to be scheduled.
Our Conversation HistoryTM repository integrates with your existing business systems and data to provide deep insights into your customers, helping you to better personalize your conversations.
Smart Communications then creates the communications using personalized content from the enrichment process. This can be in any format — whether that's print, email, SMS, chatbot, voice assistant…the sky's the limit!
Conversation HistoryTM tracks all outbound conversations produced by SmartCOMMTM and stores any data you choose. The results? You'll always know the status and history of your outbound communications.
Smart Communications provides an API that makes it easy for third party systems to update the Conversation HistoryTM, ensuring you always have a full picture of your prior communications.
All Conversation HistoryTM updates can be used to find trends to improve the next conversation cycle.
Explore the Conversation Cloud Marketplace
Providing enterprises with a selection of pre-built adaptors and plug-ins to common technologies used to communicate and engage across the entire customer lifecycle, the Conversation Cloud Marketplace allows for tight integrations, a reduction in internal silos and more complete customer views.
Optimize every investment to upgrade customer conversations across the Enterprise
Read Our White Paper: Customer Conversations in the Cloud
DOWNLOAD THE WHITEPAPER
If your cloud solution requires a hardware install, is it really a cloud solution?
Contact Us