About Smart Communications
Revolutionize Customer Experience with Our Conversation Cloud™ Platform - Empowering Two-Way Conversations and Driving ROI
By putting more control into the hands of consumers and engaging them in interactive, two-way conversations, companies can provide exceptional experiences that lead to deeper customer loyalty and increased ROI. We make this possible via our Conversation Cloud platform, the only offering delivering personalized, omnichannel conversations across the entire customer experience. It includes the enterprise-scale customer communications management power of SmartCOMM™, the trade documentation expertise of SmartDX™, and forms transformation capabilities made possible only by SmartIQ™.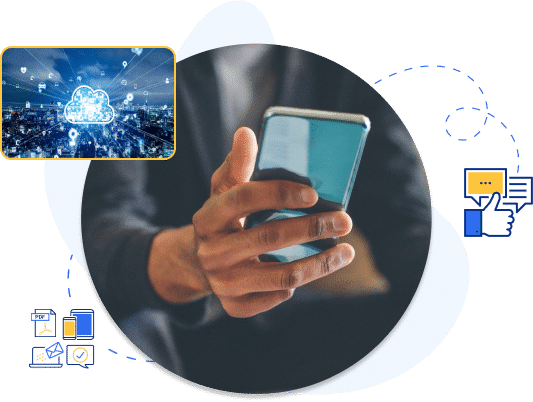 Our Highlights at a Glance
16 years of CCM product expertise
2019 acquisition of Intelledox (now SmartIQ)
2021 acquisition of Assentis™
A Respected Past and a Bright Future
Making Communications More Meaningful Since 2004

We may have a fresh take on how enterprises need to stop talking at their customers and start having a conversation with them, but we've been helping them communicate more effectively for a very long time! The world has changed significantly in the past 16 years, with digital becoming more front and center and customers becoming more in control, but our focus has remained consistent—helping our customers become industry leaders in getting the right information to the right people at the right time while maintaining compliance and the most stringent security measures along the way

Leading the Cloud Evolution

Only offerings purposefully built for the cloud can deliver the speed, agility, business-user control, reduced total cost of ownership and potential for the more cohesive customer experience that has made cloud-based solutions so desirable. To make this vision a reality, we delivered our hybrid-cloud solution in 2014. Yes, 2014! And this was just the start of our commitment to the cloud which today also includes Pure Cloud deployment via AWS.

A New Name and New Commitment to Scale the Conversation

In 2016, with the backing of Accel-KKR, one of the world's premier tech-focused private equity firms, Smart Communications as it exists today was born - and we didn't waste any time! Quickly ranked as the only cloud solution in the Leaders Quadrant in Gartner's Magic Quadrant for Customer Communications Management, we were just scratching the surface. With a renewed focus, we forged ahead, developing innovative product features and unmatched professional services offerings designed to help the world's largest enterprises – in all kinds of industries – improve internal efficiency and increase ROI while delivering more meaningful communications to their customers. This is what is means to scale the conversation!

Enabling SMARTER Conversations Across the Entire Customer Lifecycle

In 2019 Smart Communications acquired Intelledox (now SmartIQ), which transforms traditional forms-based processes into intelligent, conversational user experiences. With the addition of this game-changing functionality, Smart Communications customers are now empowered to deliver the smartest, most interactive conversations possible, throughout the entire customer lifecycle—from acquisition to servicing, and every interaction in between. In 2021 Smart Communications acquired Assentis, a leading European software solutions provider specializing in customer communications management (CCM) with a focus on the financial services industry. Smart Communications can now more effectively serve enterprises in the financial services industry and throughout Continental Europe. And current Assentis customers to quickly take advantage of Smart Communications' proven expertise in multi-tenant SaaS.

Evolving from Customer Communications Management to Customer Conversations Management

Today's consumers don't want yesterday's communications. Smart Communications is uniquely capable of helping enterprises evolve from delivering communications toward, instead, enabling interactive, two-way conversations that result in exceptional customer experiences. But don't just take our word for it! Today, IDC, Aragon, Novarica and Aspire all rank Smart Communications as a Leader!