Digital Forms Automation Can Make Your Business SMARTER
Companies are re-evaluating their non-digital processes in a race to support more functions online, meet customer expectations, and create an outstanding experience. SmartIQ is a low-code enterprise forms management solution that allows businesses to reimagine traditional, one-directional forms-based processes—and expand them into innovative, two-way conversations that can scale using digital process automation.
How SmartIQ Benefits Organizations
Forms automation software from SmartIQ allows organizations to modernize any form process—guiding internal stakeholders and end-users through an automated digital experience that will:
Reduce abandonment rates and inaccurate data
Connect to existing data sources and build response-based experiences that pre-fill, collect, validate, and update data in real-time.
Accelerate end-to-end processing time
Automated data and approval routing capabilities deliver the right information to approvers and third parties nearly instantaneously.
Create highly secure processes that protect customer data
Maintain compliance requirements with an ISO/IEC 27001: 2013, SOC1, SOC2 Type II, HIPAA and FSQS certified solution.
Empower business users across the enterprise
Low-code user interface allows business units to easily design and maintain forms communication processes.
Transforming Forms-Related Communications
Watch how SmartIQ software uses secure data connections and forms automation to transform traditional forms-based, manual—communication processes into response-based, intuitive experiences.
Watch Now
Explore Key SmartIQ Capabilities

Created for enterprises
Manual forms processes are easily transformed into intuitive, guided experience by business users in any part of the organization—regardless of business unit or number of business users needed.
Enables business ownership
Automate data routing and approval workflows
Robust integration capabilities
Advanced branding options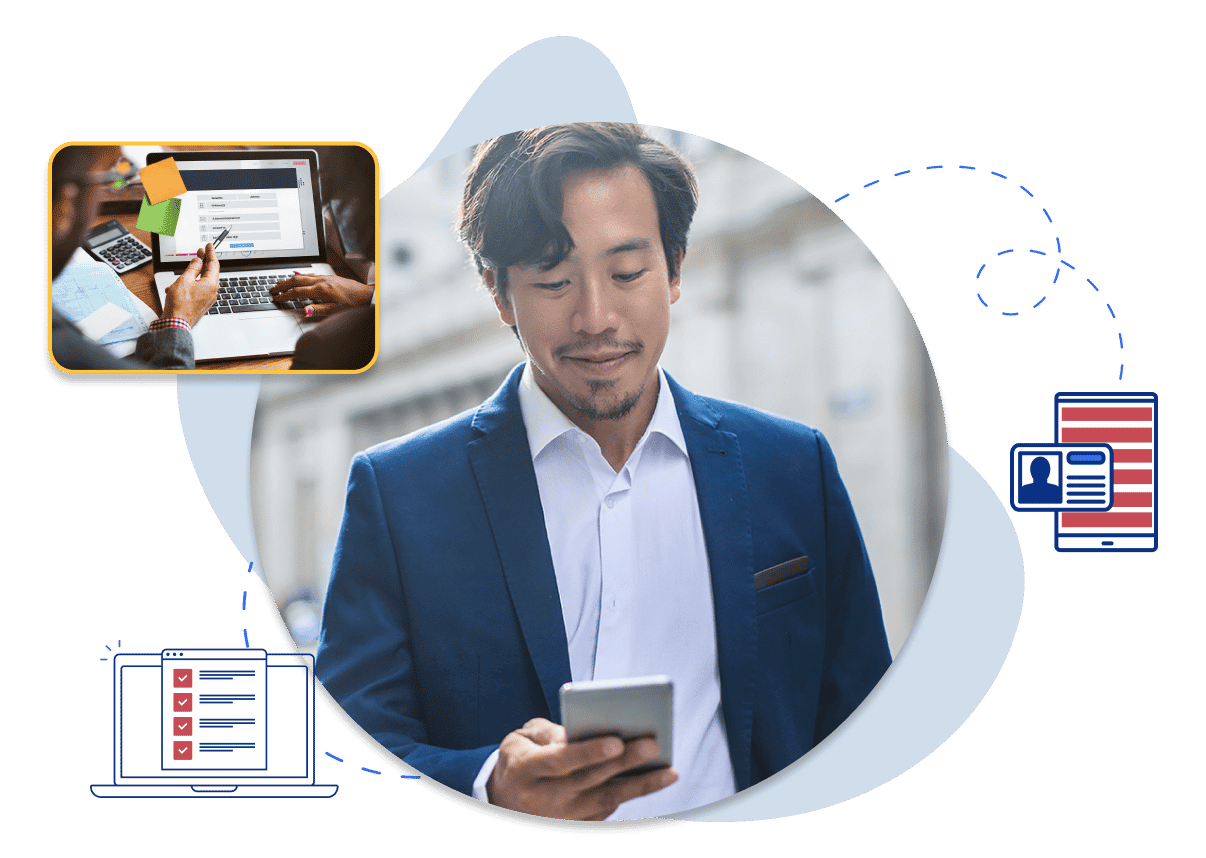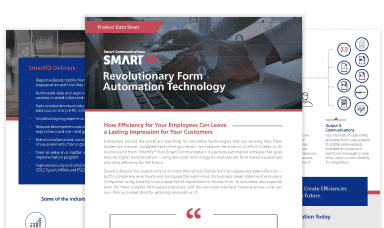 DATA SHEET
The power of possibility
SmartIQ empowers business units across an enterprise to deliver SMARTER forms-based communications at some of the most critical moments of their customers' lives. Turnkey data integrations and easy-to-use workflow tools are just the beginning of your forms automation journey.
Download Data Sheet
EBOOK
Build digital, interactive forms for improved customer experience
What impact do forms have on the customer lifecycle? Explore how traditional, static forms inhibit engagement and how some of the most innovative organizations are rethinking the way they collect customer information as part of an interaction. Begin to reimagine your customers' journey through the power of digital forms automation.
Download Ebook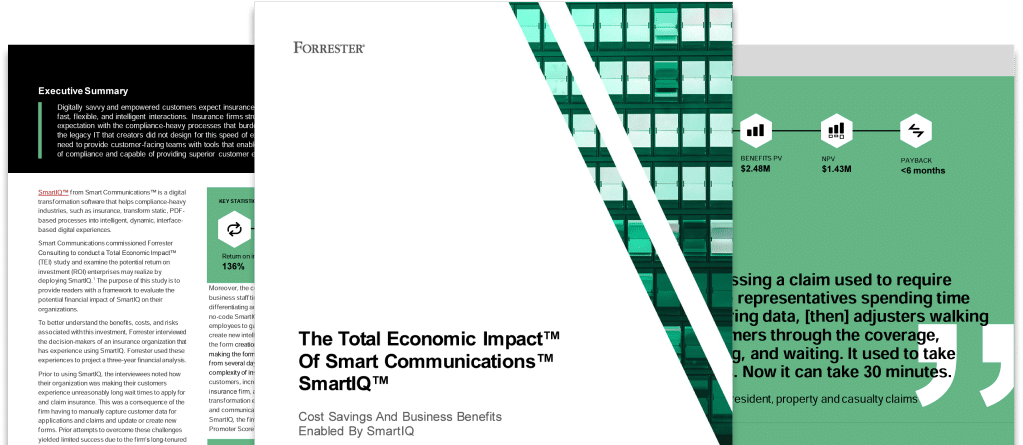 EBOOK
Ready to discover the ROI of a cloud software investment?
Check out the 2022 Forrester Total Economic Impact (TEI) Report for an in-depth analysis of the potential ROI, cost savings and business benefits for enterprises using SmartIQ.
Download eBook
"Front-end digitization in wealth management has been lagging behind many other consumer-facing industries and playing catchup with constantly rising customer expectations. At the same time, tech and platforms are in dire need of modernization."
-- McKinsey, American Wealth Management in 2030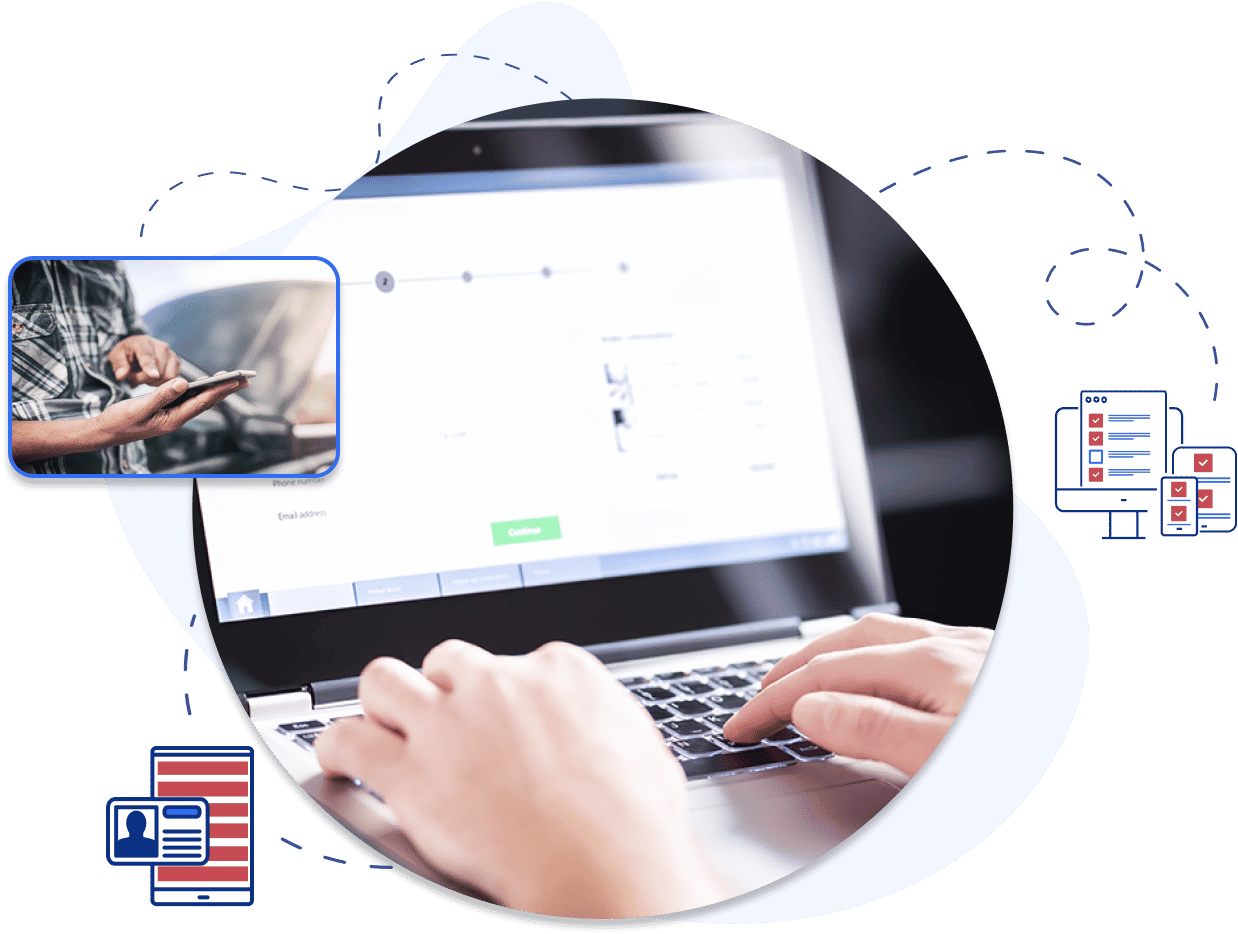 The Many Ways to Harness the Power of SmartIQ
Hundreds of organizations in the most regulated industries, including financial services, healthcare, government, and insurance trust SmartIQ. The secure and easy-to-maintain digital process automation enables enterprise-sized companies to positively engage customers from acquisition to onboarding and servicing.
Investment Account Openings
License or Permit Applications
First Notice of Loss Claims
Commercial Loan Applications
Customer Self-Service Forms
Personal Finance and Banking Applications
Part of the
Conversation Cloud™
The Conversation Cloud is the platform for SMARTER conversations. It brings together a range of capabilities designed to guide customers through critical interactions with your organizations. It empowers organizations to build these meaningful experiences quickly and efficiently.
Don't talk at your customers - start a conversation.