Ready to Migrate to the Cloud?
More and more companies realise the benefits of moving their customer communications platforms from legacy providers to SmartCOMM by Smart Communications to decrease costs, increase their organisational agility and provide experiences more in-line with customer expectations.
SmartCOMM provides enterprise-scale capabilities for all of your communication needs, including high-volume batch, on-demand and interactive communications across print and digital channels.
Curious as to how we can help you? Let us show you how.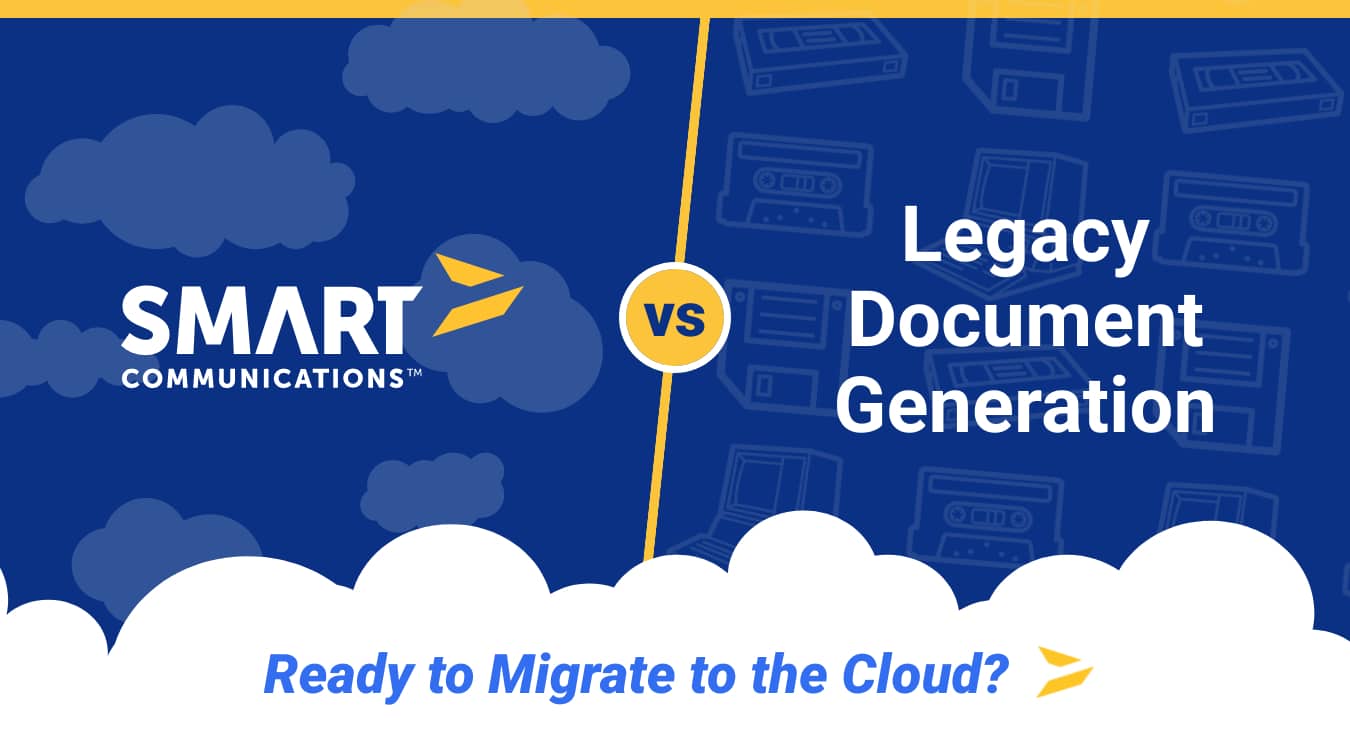 "Cloud is a strong differentiator for Smart Communications. The company was one of the first in the industry to move toward SaaS and it has embraced a cloud-native, DevOps way of working since the mid-2010s."

Aspire Leaderboard 2022
Tired of Paying for Maintenance
Still paying large amounts of your budget to maintain archaic, on-premise deployments and questioning where the return is? Choose from our pure cloud or hybrid-cloud SaaS options for a lower total cost of ownership that meets your critical business needs.
Struggling With Your Interactive Needs?
Legacy systems often break-down when you want to empower your business users to generate interactive communications. With proven scale to extend to tens of thousands of interactive users, your team is empowered to meet the demands of the modern customer.
Waiting on IT to Make Required Edits?
When you move from complex legacy desktop tools to a modern, easy to use, browser-based application, it's easy to free the IT backlog and gain business user control of your critical communications. Update language, logos, clauses, or core shared content and bring the editing process down from months to minutes.
Looking to Engage Digitally?
Even though print is core to your communication offerings now, digital is the future. Smart Communications means you don't have to choose between them. We have the enterprise scale to serve your current batch, on-demand and interactive print requirements in addition to your growing digital needs to serve you now and as your needs evolve in the future.
How Cloud Can Benefit Your Organisation
To meet the needs of today's customers, enterprises must prioritise a digital-first, omnichannel customer experience. As we move into a new era of customer conversations, cloud solutions provide the flexibility and innovation that legacy, on-premise systems cannot. With a focus on increasing productivity – and enhancing the customer experience – business leaders should invest in technology that prioritises agility, speed and scale.
Enhanced Speed to Market
Cloud technology allows businesses to rapidly deploy and scale their applications without having to worry about the infrastructure. This allows teams to focus on developing and improving their product, ultimately reducing time to market.
Lower Total Cost of Ownership
No need for huge capital outlay. The cloud allows enterprises to successfully shift some, or all, IT expenses from CapEx to OpEx. Pay only for what you use, when you use it, and capitalise on the new economics of cloud.
Speed of Innovation
The cloud helps organisations support an increased pace of product development and helps you create new services, capabilities, hybrid applications and exploit new business opportunities.
Elastic Scalability
With cloud, resources are available when you need them. You can respond immediately to dynamic spikes in demand, such as seasonal peaks, without increased capital expense, by allocating cloud resources as needed and releasing them when demand subsides.
Improved Security and Compliance
Cloud providers have vast resources and expertise to invest in security and compliance measures, which can be challenging for many businesses to replicate on-premises. Cloud providers also offer centralised security management, automated compliance reporting, and continuous monitoring.
Seamless Upgrades
Cloud helps you retain control of your applications and data while offloading routine infrastructure management to your cloud provider and gain the freedom to focus on IT initiatives that bring real value to your organisation.
""Agility requires true cloud technologies, which meet demands without hefty hardware investments, provide real-time provisioning to meet changing internal needs, increase speed to production and scale to meet the complex needs of a business' centralised customer communications strategies."

Jim Lundy

CEO and Lead Analyst at Aragon Research
Making The Move is Easier Than You Think
We've helped a large number of companies move to the digital age and break free from the shackles of their legacy communication platforms. But it's more than just moving from point A to point B. It's about re-imagining your entire approach to customer engagement. We have the experience, the people, and the technology to make the move as simple as possible, and we'll be with you every step of the way.

Evaluation and Benchmarking
As part of our migration strategy, our experienced Global Professional Services organisation will work with you to evaluate your current document and communication needs as well as review existing templates as part of a template rationalisation process.

Migration and Implementation
We offer Migration Studio and a number of migration utilities to assist with the conversion from legacy systems to SmartCOMM. These technology accelerators help to speed and automate the process of moving your existing content, styling and assembly rules directly into SmartCOMM, significantly reducing the resources required to get existing templates optimized in the new solution.

Onboarding and Path to Mutual Success
Smart Communications views our relationship with you as a partnership. Success factors play a pivotal role in this partnership. It is important that our customers achieve the expected outcomes through the initial implementation, go-live and beyond. Smart Communications will provide you a dedicated Customer Success Manager who will be responsible for defining success plans and be your single point of contact into our organisation.
Explore Resources on CCM Migration
Looking for a Leader in CCM?
If you're looking for a recognised leader to propel your Customer Communications Management Strategy, then look no further. You're in safe hands with Smart Communications. Recognised as the market leading solution by analysts globally, you can deliver outstanding customer experiences and differentiate your customer conversations.
Contact us today to explore the benefits of moving from your existing legacy platform. We'll examine the ROI benefits, build the business case and get your entire team on-board
Contact Us