Smart Communications: 100% Focus on Next-Gen Customer Communications Management
NEW NAME, ROBUST SOLUTION, LARGE CUSTOMER BASE
IN THE NEWS
In September 2016, Smart Communications, formerly a leading CCM product that sat inside UK-based Thunderhead, spun out to become an independent company owned by technology private equity powerhouse Accel-KKR. Smart Communications is 100% focused on CCM and the mission to enable better customer conversations, and builds on a rich heritage; a proven, robust suite of solutions; and a significant footprint in the insurance industry. The company now has the flexibility to extend their offerings and expand the customer base.
The new Smart Communications brand emphasizes the company's focus on enterprise digital CCM strength to "scale the conversation" in organizations of any size with the ability to support the conversation life cycle across all channels and types of communications within a true modern cloud and or hybrid-cloud environment. A key element of the messaging is that CCM in the digital era is not equal to document management. The production and delivery of complex customer documents remain essential, but CCM today is about interacting with customers more frequently through their preferred methods of communication at the times of their choosing.
Insurers are already increasing the variety, frequency, and nature of interactions with customers to meet evolving expectations and new technology options in the mobile, connected world. This means that the new era of CCM must concentrate on enhancing customer conversations to positively impact the customer experience.
"Customer Communications Management solutions are enjoying a resurgence as insurers seek to meet customer expectations in the digital age. The Smart Communications suite of solutions is well positioned to assist insurers to address the full range of customer communications requirements."
– Mark Breading, SMA Partner
The suite of solutions and capabilities that Smart Communications brings to market includes:
SmartCOMM™ – is the engine for the creation and delivery of complex customer communications. SmartCOMM supports interactive, on-demand, batch, and collaborative modes of interaction and enables personalized, context-relevant conversations with delivery through all channels – all with a modern user interface designed for business users.
SmartCORR™ for Salesforce – provides integration with Salesforce's leading CRM platform to capitalize on customer information to create and drive communications with prospects and customers. The solution offers seamless data integration, workflow management and collaboration, template design, and browser-based editing.
SmartCaaS™ – offers a new approach termed Correspondence-As-A-Service that enables partners to extend their solutions via SaaS-based APIs to Smart Communications solutions.
Guidewire Integration – leverages the long-standing relationship with Guidewire's core systems, which now boasts over 50 joint customers. Smart Communications is embedded in the Guidewire products and incorporated into Guidewire's development cycle so that the embedded Smart Communications elements are pre-certified (the only CCM solution that can make this claim).
Flexible Deployment Options – The Smart Communications solutions can be deployed via a hybrid-cloud in addition to full cloud deployment in a secure, multi-tenant SaaS environment.
A foundational theme of the Smart Communications solutions is digital design and a central focus on the user experience for the business user. Although Smart Communications now has a new name and a new corporate identity, the suite of solutions is based on proven capabilities that have been in the marketplace and implemented by many insurers over the past decade.
OPPORTUNITY FOR INSURERS
Insurers have a great opportunity to get ahead of the digital transformation curve. Those that understand the shift that is taking place and the need to focus on conversations rather than just documents will be well positioned to meet the demands that prospects, policyholders, and producers have for mobile, real-time, flexible communications. Gaining a better understanding of the conversations in progress between the customer and the insurer allows for more informed interactions that are personalized, customized, and have multi-channel delivery flexibility.
Digital transformation initiatives are playing increasingly important roles inside companies today. There is a new sense of urgency for senior executives to build enterprise-wide digital capabilities to support marketing, sales, and service interactions with customers across all lines, including property/casualty personal lines, commercial lines, and life/annuity.
Insurers are responding to the challenges, as almost all insurers (95%) consider improving the customer experience to be a strategic initiative of the enterprise. This is the top initiative among more than 15 key initiatives that SMA has been tracking. Figure 1 shows the percentage of insurers who have strategies and plans underway in other key areas related to the goal of becoming more customer-centric:
Figure 1. Customer-Centric Insurer Initiatives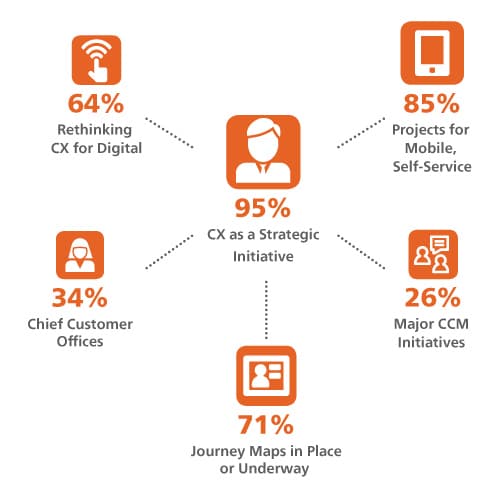 Source: SMA Research 2016-17
As Figure 1 indicates, insurers have significant activities underway to support their customer experience strategy initiatives. Although key projects for self-service and mobile are still vital, about two-thirds of insurers are going beyond point projects and rethinking the entire customer experience for the digital age, while approximately one-third have appointed Chief Customer Officers. The majority of insurers have either developed customer journey maps or are in the process of creating them now – an essential step toward understanding and predicting customer conversations.
"In the digital era, insurers must take the customer's point of view, thinking about their expectations and perspectives, and not plan for tech solutions based solely on the company's view which focuses on core systems and the related policy documents."
– George Wright, CEO, Smart Communications
Customer Communications Management solutions play a major role in enabling and scaling customer conversations. Overall, 26% of insurers have major projects underway related to CCM. SMA has observed an increase in deals for CCM solutions over the past 12-18 months. Figure 2 reveals that the highest percentage of companies with major CCM initiatives are in the life/annuity space, chiefly because they tended to lag behind P&C companies in implementations. More P&C companies implemented CCM solutions early on, but there are still far more companies in this segment: many are still pursuing their first implementations while many others have substantial upgrades or expansions of capabilities in progress due to digital transformation initiatives.
Figure 2. Insurer Plans for Significant CCM Initiatives by LOB
(Percent of Insurers Planning New Systems or Major Enhancements)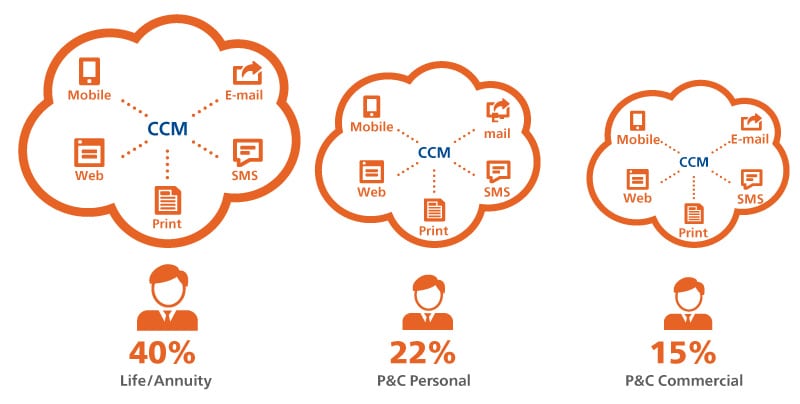 Source: SMA Research, 2017 IT Spending and Priorities, n=87
The net is that there are still tremendous opportunities for insurers to leverage CCM to meet policyholder and agent expectations and to differentiate from the competition. Insurers need a platform to support the creation, management, and delivery of all manner of communications across the enterprise (both print and digital) with strong integrations with core systems and customer relationship management (CRM) solutions. The customer demand is here today. But forward-thinking insurers are also positioning for another wave of new customer communications requirements in the near future: those generated by the connected world of smart homes, connected cars, wearables, the Internet of Things, and many other new technologies and devices.
WATCH POINTS
Insurers that are considering Smart Communications to assist in enhancing conversations and communications with customers should watch for developments in the following areas:
Existing Partnerships: Assess the breadth and strength of existing partnerships that have been in place for years before Smart Communications was established as an independent company (including partnerships with core systems providers such as Guidewire, systems integrators such as E&Y, and CRM solutions providers such as Salesforce).
New Partnerships: Look for the establishment of new partnerships over time to provide more integration options to customers.
Market Momentum: Smart Communications starts as an independent company with an existing, extensive customer base. Watch for the company to win new deals and expand relationships with existing customers.
New Functionality: Expect the newly unleashed company to continue product innovation with new features and capabilities to assist in scaling the conversation and meeting the evolving needs and expectations of customers in the digital, connected world.
When evaluating any technology solution provider as a potential partner, check to see if the market message remains consistent and on-point, evaluate their insurance-specific knowledge and solutions, and consider the general health of the company in terms of the executive team and the financial results.
SMA VIEWPOINT
An intense focus on the customer is essential in the digital age. In the last ten years, the communications options have expanded significantly, and the expectations of customers have evolved and will continue to evolve. Insurers must establish a customer communications management platform to support modern communications for the conversations that occur across all parts of the business and throughout the customer lifecycle. These conversations must be personalized and delivered when, where, and however the individual prefers.
Fortunately, insurers are actively engaged in reorienting their companies to become customer-centric. The C-level sponsorship, funding, organization, and energy for customer initiatives are making a difference and providing advantages to those that are aggressive in these areas. One of the biggest challenges that insurers face in implementing new solutions is not necessarily the functionality of the solution itself – although that is certainly important. The issue of how difficult or easy the solution will be to implement into their organizations can weigh heavily on the solution choice. Pre-integration with leading providers of core systems, CRM, marketing solutions, and others goes a long way in improving the implementation path and timing. Partnerships with experienced, trained systems integrators is another key factor. Final important considerations are the deployment options that are available. As the tech world shifts to the cloud, the ability for secure hybrid or full cloud solutions is critical and is another important enabler for a more straightforward implementation.
In all of these areas – solution functionality, integration, experienced implementation partners, and flexible deployment options – Smart Communications is a leader. Insurers seeking to establish a comprehensive platform to support customer communications across the enterprise should strongly consider Smart Communications as a potential partner.
ABOUT STRATEGY MEETS ACTION
SMA blends unbiased research findings with expertise and experience to deliver business and technology insights, research, and advice to insurers and IT solution providers. By leveraging best practices from both the management consulting and research advisory disciplines, we take a unique approach – providing an unrivaled set of services, including retainers, research, consulting, events, and innovation offerings.
This ViewPoint presents a synopsis of information provided by Smart Communications in conjunction with SMA's observations, insights, and analysis. Smart Communications has purchased distribution rights for this SMA ViewPoint.
Additional information on SMA can be found at www.strategymeetsaction.com.
For more information on Smart Communications visit www.smartcommunications.com.