Ready to Migrate from your Legacy Platform?
More and more companies realize the benefits of moving their customer communications platforms from outdated, legacy providers such as Pitney Bowes and OpenText to Smart Communications to decrease costs, increase their organizational agility and provide experiences more in-line with customer expectations.
Smart Communications provides enterprise-scale capabilities for all of your communication needs, including high-volume batch, on-demand and interactive communications across print and digital channels.
Curious as to how we can help you? Let us show you how.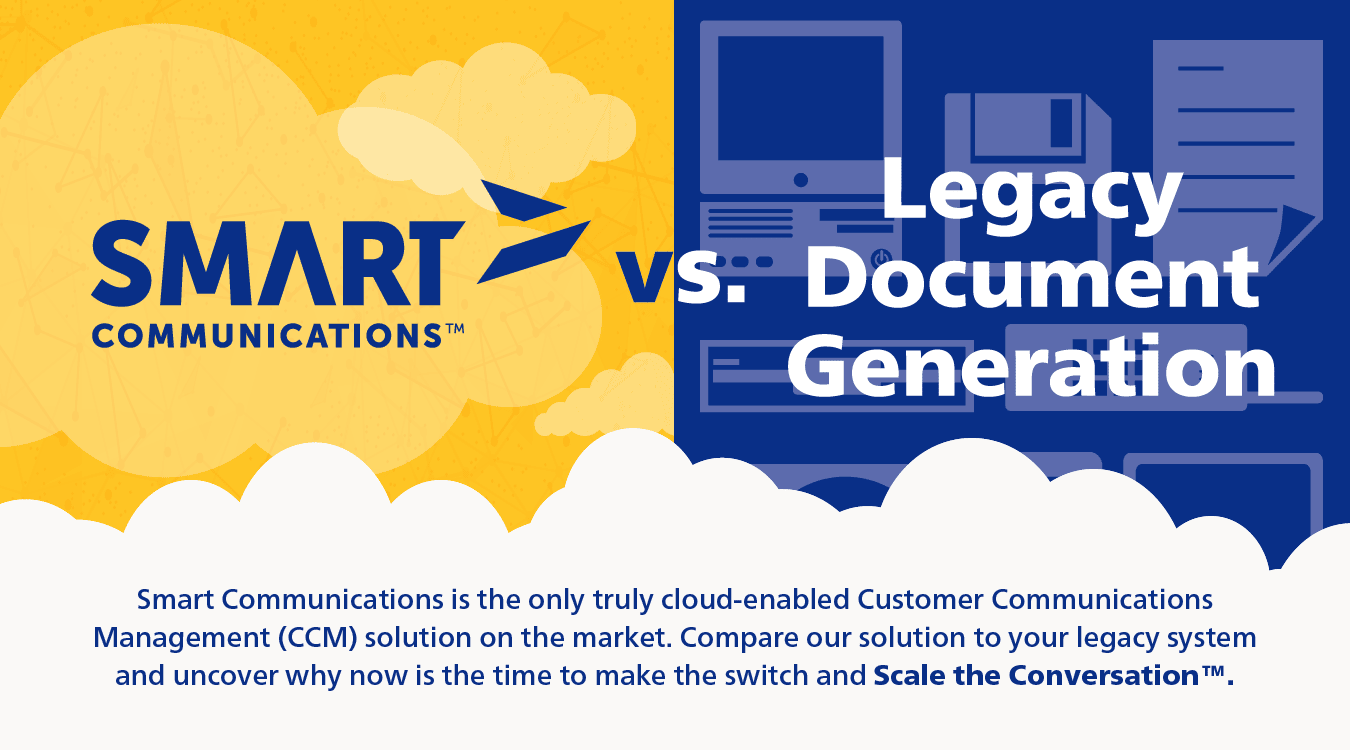 Tired of Paying for Maintenance
Still paying large amounts of your budget to maintain archaic, on-premise deployments and questioning where the return is? Choose from our pure cloud or hybrid-cloud SaaS options for a lower total cost of ownership that meets your critical business needs.
Struggling With Your Interactive Needs?
Legacy systems often break-down when you want to empower your business users to generate interactive communications. With proven scale to extend to tens of thousands of interactive users, your team is empowered to meet the demands of the modern customer.
Waiting on IT to Make Required Edits?
When you move from complex legacy desktop tools to a modern, easy to use, browser-based application, it's easy to free the IT backlog and gain business user control of your critical communications. Update language, logos, clauses, or core shared content and bring the editing process down from months to minutes.
Looking to Engage Digitally?
Even though print is core to your communication offerings now, digital is the future. Smart Communications means you don't have to choose between them. We have the enterprise scale to serve your current batch, on-demand and interactive print requirements in addition to your growing digital needs to serve you now and your needs evolve in the future.
Making The Move is Easier Than You Think
We've helped a large number of companies move to the digital age and break free from the shackles of their legacy communication platforms. But it's more than just moving from point A to point B. It's about re-imagining your entire approach to customer engagement. We have the experience, the people, and the technology to make the move as simple as possible, and we'll be with you every step of the way.

Evaluation and Benchmarking
As part of our migration strategy, our experienced Global Professional Services organization will work with you to evaluate your current document and communication needs as well as review existing templates as part of a template rationalization process.

Migration and Implementation
Our Migration Studio solution assists with the conversion of communications from legacy systems, such as Pitney Bowes' and OpenText's solutions, to Smart Communications. Migration Studio processes existing communications, intelligently analyzes the content, and automates the import of communications to our platform. These automated capabilities significantly reduce the required resources and overhead associated with traditional migration practices.

Onboarding and Path to Mutual Success
Smart Communications views our relationship with you as a partnership. Success factors play a pivotal role in this partnership. It is important that our customers achieve the expected outcomes through the initial implementation, go-live and beyond. Smart Communications will provide you a dedicated Customer Success Manager who will be responsible for defining success plans and be your single point of contact into our organization.
Save Money & Build Stronger Customer Relationships with Modern Customer Communications
Download this guide to find out how modern customer communications platforms can save enterprises money while also helping them build stronger relationships with their customers. Talk about win-win!
Download Now
Contact us today to explore the benefits of moving from your existing legacy platform. We'll examine the ROI benefits, build the business case and get your entire team on-board
Contact Us