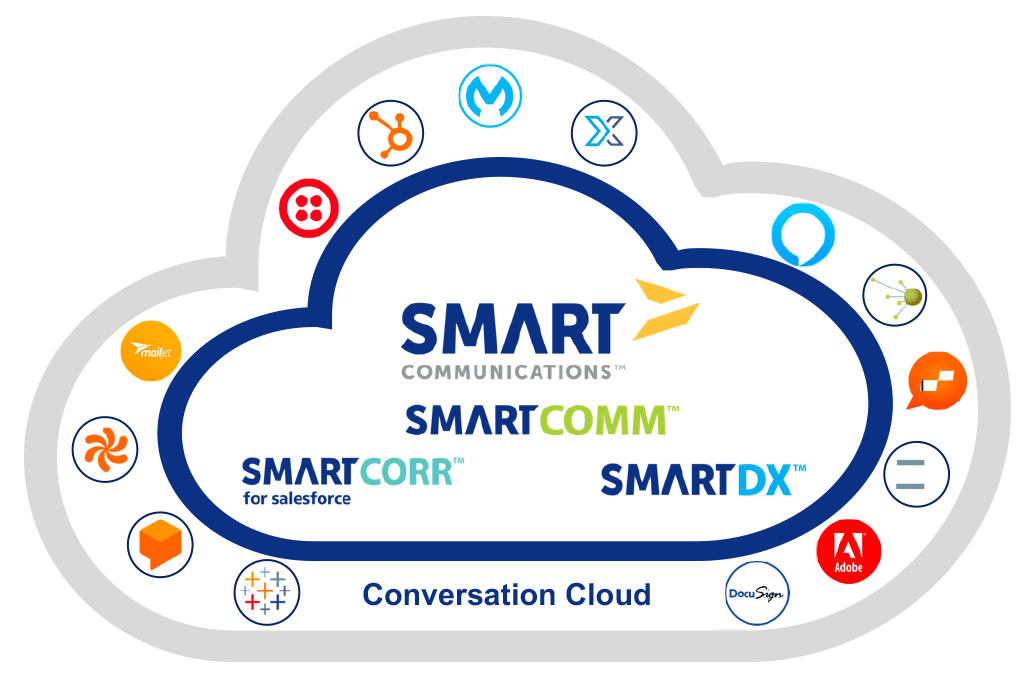 Ready to turbo-charge the investments your organization has already made in customer-interaction tools? Whether it's tools used by the Marketing, Customer Service, or Operations teams, your customers are being tapped from many systems and departments at any moment. The Conversation CloudTM makes it easy for organizations to combine these many investments into one framework – harnessing the power of silo'd customer data to increase internal efficiencies and scale personalized conversations.
Smart Communications plugins are designed with modern, open standards to support best-in-breed technologies worldwide. As customer interactions occur, data is tracked and made available across the Conversation Cloud. The result? More relevant, impactful conversations that increase loyalty, not churn.
Whichever Smart Communications product is right for your enterprise – SmartCOMM, SmartCORR, or SmartDX, our solution sits at the center of the Conversation CloudTM, leveraging the latest data, applications, and history to enable the most relevant conversation, time after time.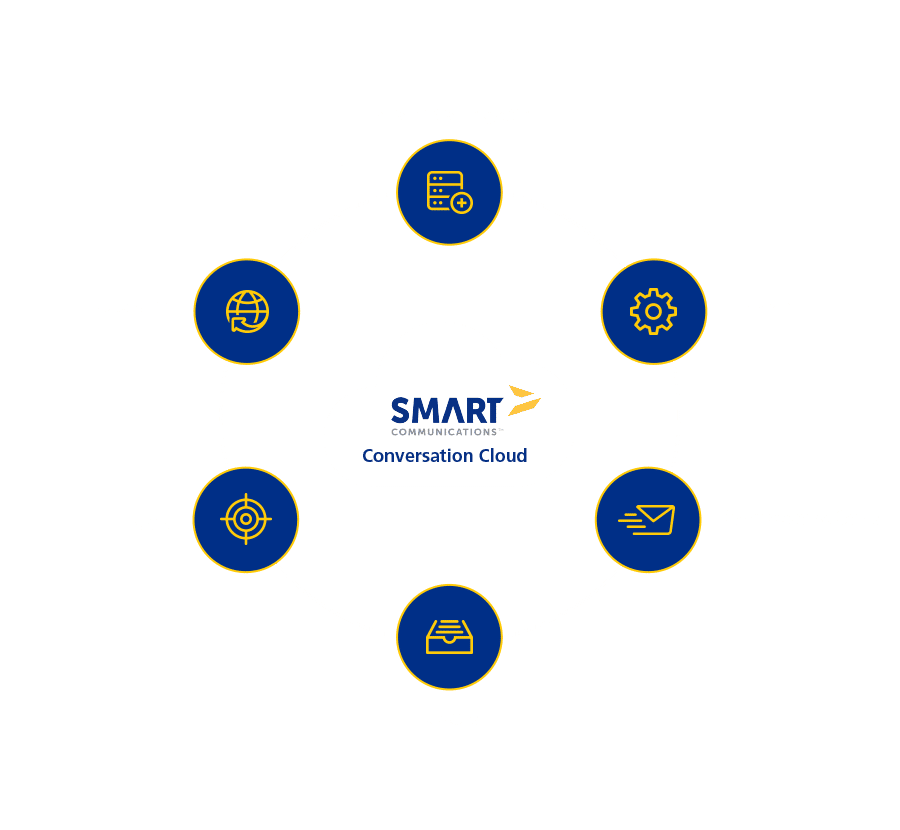 Business triggers are customer events triggered by any business system: Sales, CRM, Marketing, Service, Transactional and more.
Insurance: Time to renew your auto policy
Healthcare: Your Healthcare Welcome Kit is ready
Retail Banking: Your monthly statement is ready online
Capital Markets: Your trade confirmation is cleared
Retail: The cabinets you ordered are ready for installation
Our purpose-built Conversation History™ and your existing business systems provide rich customer insights to better personalize the conversations you are having with your customers.
Harnessing data about each customer and the specific trigger we're supporting, Smart Communications technologies build and send relevant communications, using any preferred conversation channel including:
E-mail
SMS
Web
Voice Assistants
Conversation History records pertinent information about all outbound communications produced and stores the information in a highly-efficient and scalable repository. Information stored includes:
What was the communication
When was it produced and delivered
Which channe
Conversation History tracks communications and can pull in events from 3rd party systems using a powerful plug-in to tag previously produced communications with 3rd party metadata, providing deeper insight into the communications' success.
Smart Communications updates the outcome of the communication in the Conversation History and the customer conversation begins. Updates include:
E-mail was opened | bounced | url clicked | bounced
SMS replied to
Web page visited
Social conversation happened
Voice Assistant conversation took place
Written communication mailed to postal servic