By Chris Murphy, Senior Director, Product Marketing at Smart Communications
Spring always seems to be a busy time with conferences and this year's schedule was no different for the Smart Communications team. We traveled across the U.S. to attend noteworthy events that focused on new and innovative ways to better communicate with today's modern customer. The team was on the road in Anaheim  at Document Strategy Forum, Austin at Dig In: The Future of Digital Insurance, Las Vegas at xPlor and PegaWorld,  and Grapevine at Blue Cross Blue Shield's Annual Summit, New York at Salesforce World Tour, not to mention the wonderful time we spent with our customers in Miami at our flagship customer conference, Innovate. It's always refreshing to be able to spend time with the professionals responsible for creating and managing content, communications and strategies to support smarter customer experiences.
Here are a few takeaways from some of the standout sessions and conversations from our recent Spring excursions.
The Rise of Benchmarking
Customer Communications Management (CCM) has firmly established itself as a mission-critical component for organizations to create higher engagement and customer lifetime value. There has been a growing movement in the sophistication in which practitioners are evaluating their CCM maturity –
not just from a product perspective, but more holistically and incorporating success measures across technology, people and processes. A couple of sessions across the conferences touched upon this notion, including Kaspar Roos of Aspire who provided insight into the dimensions by which to measure a CCM strategy as well as learnings from audience participants using live polling.
Aspire recently released their 2019 CCM Leaderboard, an interactive, online tool that allows users to dynamically visualize the current CCM vendor landscape. You can learn more about Aspire's Leaderboard here.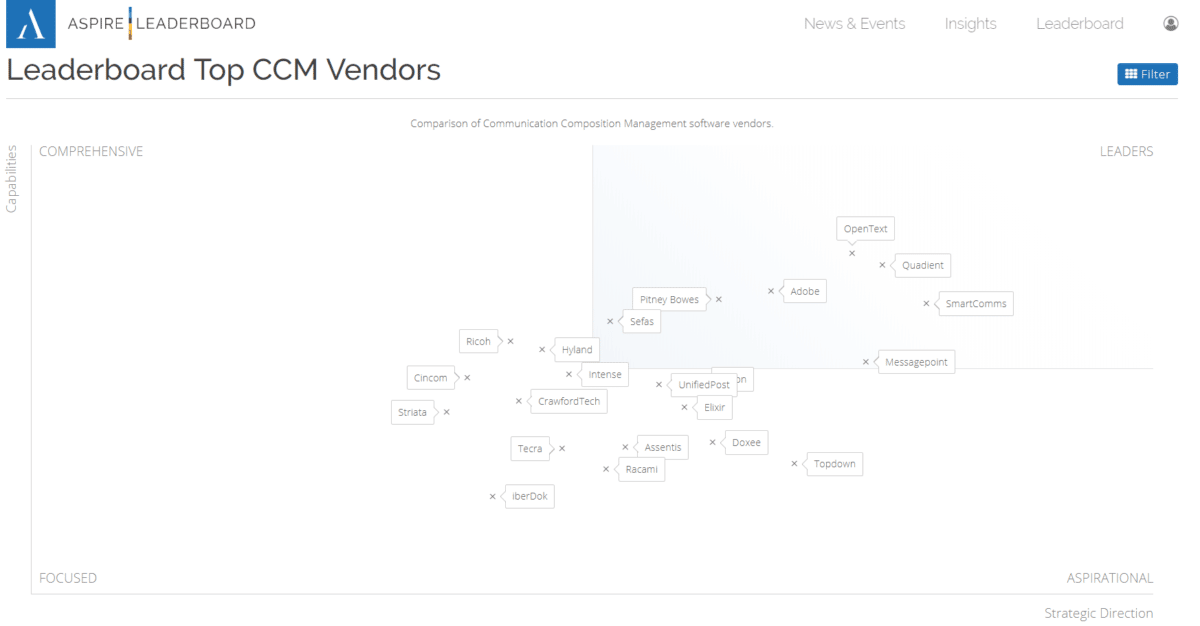 The Death of the Document
In this provocatively-titled session, The Death of the Document, Doculab's VP and Practice Lead, Joe Shepley, eloquently argued for a major change in the way we conceptualize documents and communications as a whole between companies and customers. With digital-natives becoming the majority of customers, policyholders, and members in the next 10 years, the gauntlet was firmly thrown to see if companies can even afford not to evolve their view of customer communications with the changing customer landscape. Customer communications mapping across a matrix of paper-based vs. digital vs. manual vs. automated can help in determining the right mix and focus prioritization efforts when engaging in digital transformation efforts within organizations.
The Millstone of Legacy Systems
Several conversations, both formal sessions as well as ad-hoc discussions, highlighted the constant struggle of internal IT departments and business practitioners regarding their daily decisions surrounding legacy CCM systems. Often spoke of in terms akin to the millstone hung around the neck of miscreants to ensure drowning, legacy systems (whether core or supporting) are consistently cited as one of the key barriers to an organization's digital transformation efforts. While many options remain open to enterprises,  ranging from wholesale replacement to wrapping and extending legacy systems, those organizations who were able to tell the most compelling stories backed with real improvements were often the ones who had successfully decoupled themselves from the millstone of their legacy systems by upgrading to modern, connected, agile technologies and methodologies rather than re-applying the band-aid for the umpteenth time.
Customer communications are more important than ever and cloud solutions are the way forward for improved customer experience and business agility. Unfortunately, many legacy customer communications platforms weren't built to meet the evolving needs of today's consumers. Do you know what you're missing? Learn how easy it is to migrate off your legacy system and how Smart Communications compares to other legacy systems.
Artificial Intelligence: The Right Direction, But A Long Way To Go
It's impossible to go to a conference today without hearing the promise of artificial intelligence (A.I.) and the impact that it's likely to bring across all walks of life. Whether consumer technology or business applications, it's estimated that A.I. will contribute approximately $16 trillion to the global economy by 2030. Yet, while it's important to be looking to the future, and leveraging logical advancements, many companies are still struggling to get the basics in order. As one conference-goer remarked, "What good is A.I. when we can't even move our communications off of print to digital?" Early adopters are seeing the benefits of new A.I. technologies and applications, but for those that aren't there yet, the need to ready themselves is becoming more apparent. Whether that is more modern architectures, internal process improvements, or data hygiene, there are steps to better position the enterprise to be ready when the time comes. Here are a couple of ways we can expect A.I. to power smarter customer communications.
Want to meet the Smart Communications team in person? Stay in touch with us and see what events we're heading to next!