The Market's Most Mature SaaS Communications Solution
A leading customer communications management (CCM) solution, SmartCOMM empowers enterprises to effortlessly deliver personalized, interactive communications through customers' preferred channels—all at tremendous scale. Tailored for the business user, SmartCOMM streamlines and standardizes work processes, resulting in improved internal efficiency and measurable cost savings.
How SmartCOMM Benefits Enterprises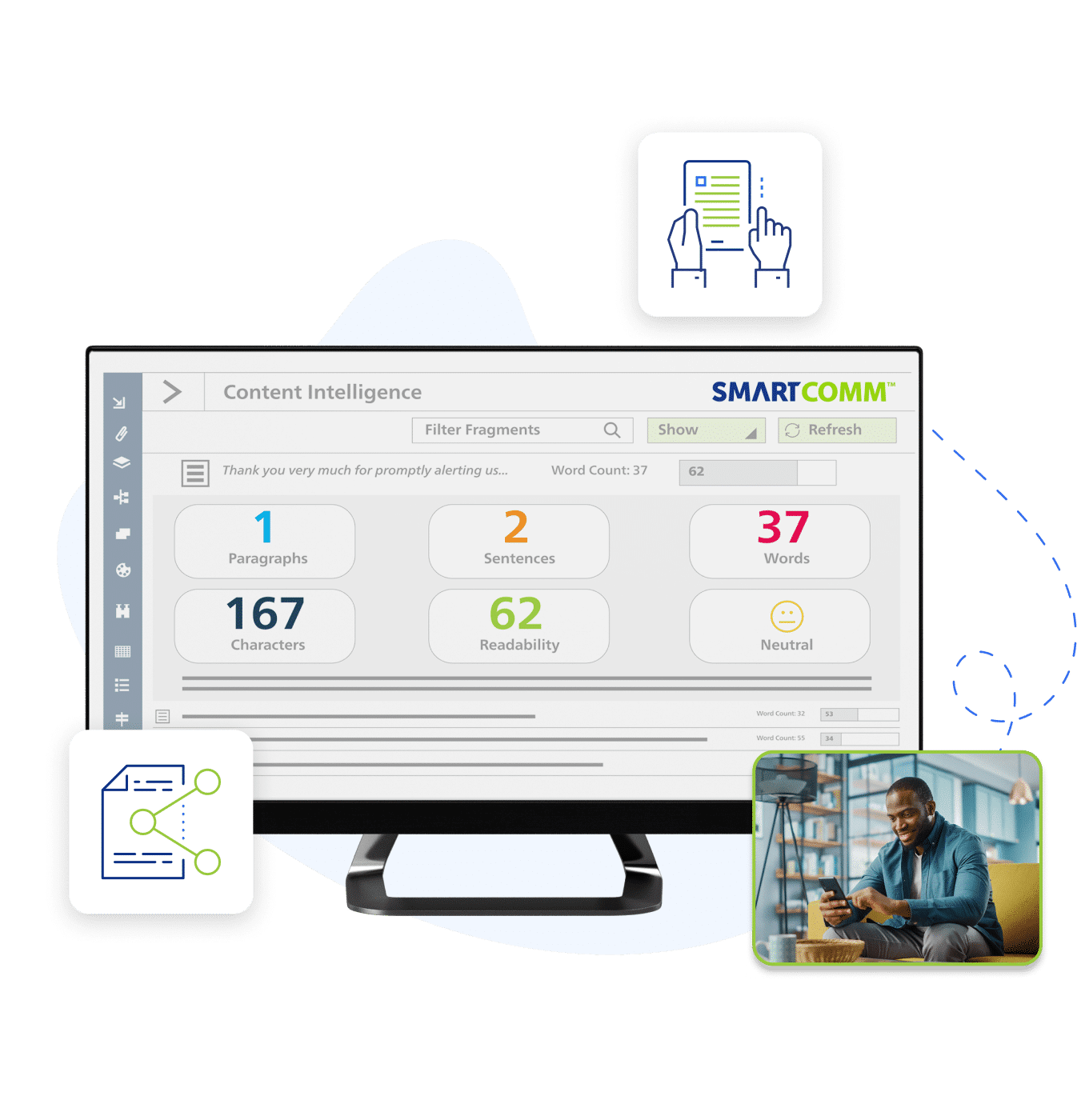 Deliver Personalized Communications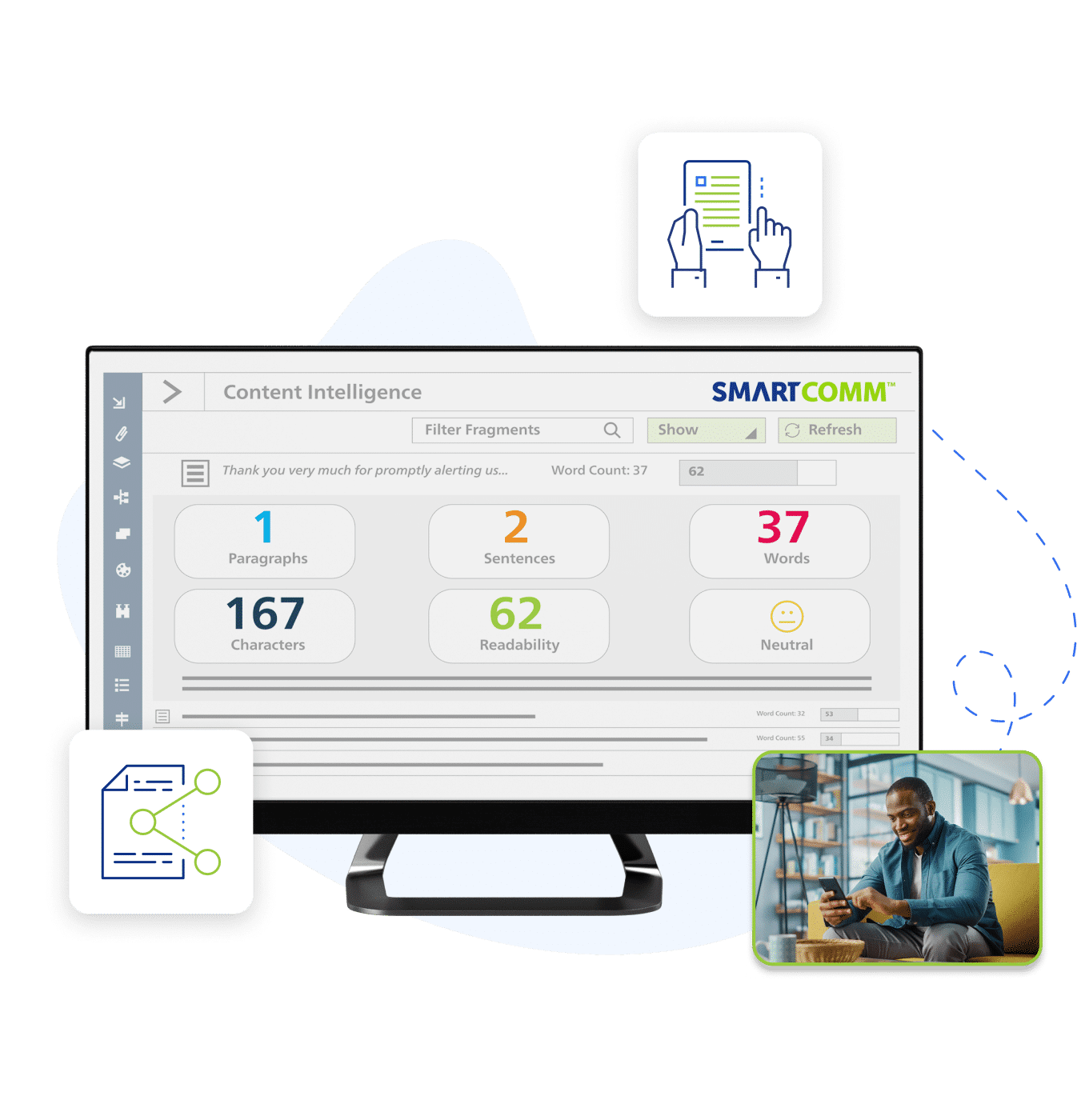 Engage customers with tailored and personalized communications that are brand-consistent, relevant, and deliver meaningful value.
Scale to Add New Channels
Engage Customers on Their Terms
Manage Complexity and Compliance
The Many Ways to Harness the Power of SmartCOMM
Built to Address Your Critical Business Challenges
SmartCOMM helps to address some of the key challenges that businesses are facing – from improving engagement, reducing costs, and mitigating risk. Find out how:
Essential Guides, Whitepapers and more Helpful Resources About SmartCOMM
GUIDE
The Ultimate Guide to CCM Software & Strategic Solutions
If you're searching for customer communications management (CCM) software – this guide is for you! Learn about CCM software, explore why a cloud-based CCM solution positions you for success, find questions you should ask when choosing a CCM vendor and much more.
Read Guide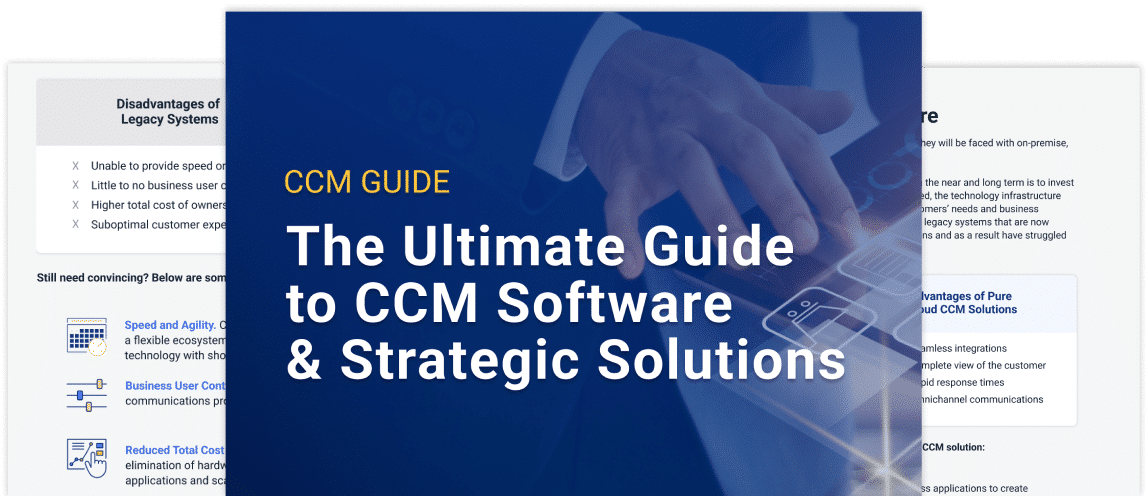 Cloud-Native Technology You Can Rely On
SmartCOMM has been architected as a cloud-native solution and brings some of the most cutting-edge technology to the CCM market. This technology infrastructure helps us to provide the most reliable, scalable, resilient and extensible solution to the world's largest enterprises.
Full documented API Suite
Elastic scalability
Multi-tenant SaaS architecture
Pre-built integrations
Single Sign-On
Continuous delivery and innovation
Blue Green Deployment Upgrades
Active – Active Disaster Recovery

SmartCOMM Easily Connects to the Most Trusted Technologies
"Our overall experience with SmartCOMM has been highly positive. It has helped us achieve our digital transformation goals, streamline our processes and enhance our customer experience. SmartCOMM has quickly & seamlessly integrated with Salesforce Industries for Insurance, significantly streamlining and automating our document generation process and enabling a smooth, touchless customer journey."
– Chief Strategy Officer, Mid-Size Insurance Company
See Reviews
SmartComm FAQ: Frequently Asked Questions
What is SmartCOMM CCM, and how does it differ from a CRM?
What are some common business applications?
What channels does SmartCOMM support?
Where can I get SmartCOMM pricing information?
What kind of organizations typically purchase SmartCOMM?